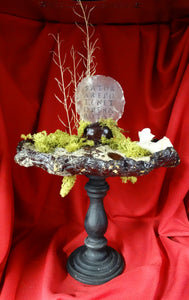 A protective SATOR square backlit by a votive candle provides a quiet, mindful focal point in your home. 
The SATOR, one of the most ancient four times palindromes, has magickal  associations with protection of home, self, and property. It has been hand carved into the lining of an abalone shell.
These pedestal dishes are made from dried polypores providing the perfect offering dish, charging space, or mini altar.